Increase Productivity with a Pallet Carousel
Published

12/17/2015

Author

Anonymous

Tags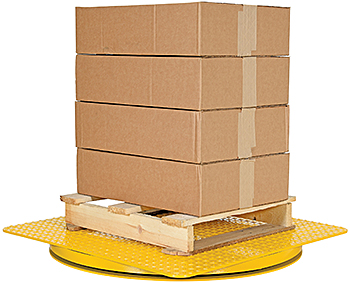 Warehouse operators and manufacturers need the right tools to keep productivity high and that means matching pallet handling equipment to the jobs your team handles on a daily basis. A pallet carousel is one such tool you can use to keep workflow smooth.
Carousel Benefits:
Ability to rotate pallets and other types of materials a full 360 degrees

Makes loading and unloading easier on workers

Can be added to work benches, scissor tables or placed on the ground

Powered carousels operate with the flick of a switch
An industrial carousel can be had with a tread plate top for traction or without if this option is not necessary for the jobs you handle. Loads of up to 6,000 lbs. are manageable using the Vestil CA-KP Carousel (Kingpin). Tight work space often requires flexibility, but many operations do not have the tools that make repetitive tasks easier and more efficient for employees. As a result, workers often must waste time and motion and spend more time than needed when they could be moving on to another task. There are various pallet carousels available to fit varying needs. A look at some different options will give you an idea which one might be best for your operation:
Round and square carousel tops are available

Tread plates range from 1/4" in the 4,000 lb. size to 3/8" in the 6,000 lb. size

Kingpin Vestil CA Carousel allows offset loading of 50% of the capacity on 50% of the deck

Stand-alone powered carousels offer variable-speed control in a 115v single-phase unit

POW-CAR-50 models are easily operable using a forklift

POW-CAR-LP models are great for pallet truck access or forklift use
When considering an industrial carousel, the details matter. With a little insight, you can match the carousel to your business's needs. Contact HOF Equipment Company for the right tools for your business at 888-990-1150 or visit www.HOFequipment.com for further information.
Comments