Get Employees Out of the Elements with a Smoking Shelter
Published

05/27/2015

Author

Anonymous

Tags
There is no shortage of places where smoking is not allowed, especially when it comes to the workplace. Safety regulations, laws, or company policy often determine where employees can and cannot smoke during a break, and the result is often a group of employees huddled in a faraway corner. It's not so bad during mild months, but finding a good place to smoke can quickly turn into an ordeal when the weather is not cooperating.
If employees regularly find themselves standing in unpleasant outdoor elements during smoke breaks, it could be time to invest in a smoking shelter. A smoking shelter makes outdoor smoking comfortable even in the worst of conditions. Employees are protected from weather elements like rain, snow, or the hot summer sun. If your organization has employees that take regular smoke breaks, a smoking shelter is a good solution to an unavoidable problem.
HOF Equipment Company carries the Vestil MDS-96-SM Outdoor Smoking shelter which offers an excellent way to provide employees with a safe, comfortable place to smoke while still following all necessary guidelines. Designed to handle all weather conditions, this shelter boasts an 18-gauge steel roof that can hold up to 45 lbs. per square inch (perfect for snowy seasons), along with a front clear wind-blocking panel and coverage on all four sides. With an overall size of 120"W x 96"D x 91"H, there's plenty of room for several smokers. The shelter includes lag plates for quick installation on concrete. Another option is the attractive Vestil SSH-7939-80 which features translucent polycarbonate panels.
Taking a smoke break shouldn't leave you out in the cold (or hot sun). A smoking shelter is an excellent way to ensure you're in compliance while taking care of the smokers in your organization.
Please contact HOF Equipment Company at 888.990.1150 or visit us at www.hofequipment.com for further information on our outdoor smoking shelters.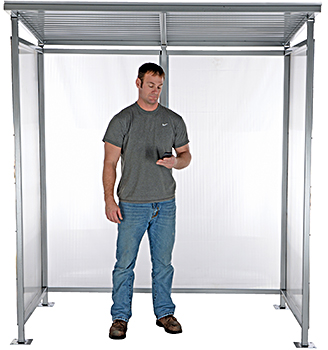 Comments