Factors You Need to Know regarding Industrial Ladders
Published

09/26/2019

Author

Anonymous

Tags
Industrial ladders have many useful applications across a wide variety of industries. There are many types of industrial ladders categorized by their intended usage and other factors. Industrial ladders are generally made of steel or in some cases aluminum. Ladders can be foldable, collapsible, fixed or mounted, or they may serve as an extension or a raised platform for order picking etc. It is important to choose the right type of ladder for your application. There are several factors that should be considered when sourcing industrial ladders. For instance, it is crucial that the ladders fulfill OSHA and ANSI standards and requirements. This post touches upon the different types of industrial ladders in the market and the factors to consider when choosing them.
Types of Industrial Ladders
There are various types of ladders used in industries. Here are some of them:
Factors to Consider When Choosing an Industrial ladder
Now that we know the types of industrial ladders, it is crucial to choose the right one for your requirements. Here are some pointers you may find helpful:
Portable or Fixed
Height requirements
Safety features such as auto locking
OSHA or ANSI compliance
Load bearing capacity
Standard top step or cantilever platform
If you are looking for an industrial ladder HOF Equipment Company is a top supplier of all types of industrial ladders and material handling equipment. Contact our sales staff now at 888.990.1150 for help in finding a ladder to suit your application.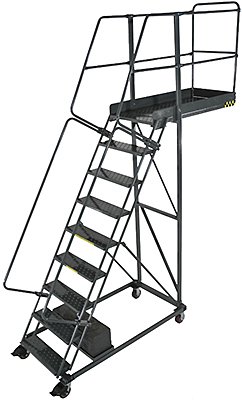 Comments