All You Need to Know About Cantilever Racking Systems
Published

02/12/2020

Author

Anonymous

Tags
Racking systems are a common need in industrial settings. They are used to store different types of goods and materials of all sizes and shapes. Some items require more lengthwise storage space or are very heavy and bulky. Cantilever racking systems are ideal for these types of materials. What are the distinct advantages of cantilever storage systems? What are the different types of cantilever storage systems? This article answers these questions and touches on other important aspects of cantilever racks.
What is a Cantilever Racking System?
A cantilever racking system features outstretched arms for holding materials, uprights of various heights that hold the arms, and sturdy support bases. These durable bases allow the rack to store and support larger/longer items. One of the main advantages of cantilever racks is that the arms can be adjusted to different height levels along the uprights to meet your storage requirements. This type of racking system can store all types of loads from light weight up to extra heavy loads. They can be configured for a single or double-sided storage.
Cantilever racking systems are also sometimes referred to as pipe racks and lumber racks across various industries. These racking systems are often designed to store long, awkwardly-shaped, as well as heavy materials.
Racks are often distinguished as light-duty, medium-duty, and heavy-duty based on their capacity.
Various Types of Cantilever Racks
Cantilever racks are distinguished into two types based on their design. They are:
Modular Cantilever Racks: As the name suggests, these rack systems are made up of various parts of various sizes allowing the purchaser to customize the system. Often they are made from heavy gauge steel and are designed to store a variety of materials and products. Racks feature multi-level construction, which enables easy product storage. and placement. They provide constant access to stored materials on fixed arms. These racks require the purchase of uprights/bases, brace sets, and arms of various lengths and sizes. Modular cantilever racks are ideal for long materials.

Structural Cantilever Racks: These racks are made from welded structural steel I-beams are suited for medium to very heavy loads and may feature pull out or crank out arms. Crank out cantilever racking allows the user to store heavy materials inside the structure of the rack and then crank them out via a hand crank mechanism when they are needed. This type of cantilever racking can be customized for a particular application in many different ways.
Cantilever Racking Arms, Uprights and Brace Sets On Modular Cantilever Rack Systems
If purchasing a modular cantilever rack system, it is important to choose the right type of hardware for racking support. There are two types of racking arms for consideration – straight arms and inclined arms. The following are the differences between these arms:
Straight Arms: These are ideal for storing various types of flat products such as lumber, angle iron and so on.
Inclined Arms: These arms are ideal for storing items such as steel tubing, PVC pipes, and other round form items that may roll off of a straight arm.
Similarly, you will require brace sets to support uprights. The brace set will determine the distance between the uprights and hence the maximum length of the items to be stored.
Uses of cantilever racking systems
Cantilever racks are ideal for storing the following:
Steel tubing and pipes
Motors and other heavy parts
Lumber
metal or wood sheets
Steel beams
Carpet
Dies and castings
Owing to their customizability, cantilever racks are are increasingly being used across many industries. HOF Equipment Company carries Vestil cantilever racks that are modular and Rack Engineering crank out cantilever racks. If you are considering cantilever racks for your application, HOF Equipment Company is a reliable supplier. View a large offering of racks on our website or give us a call to discuss your needs.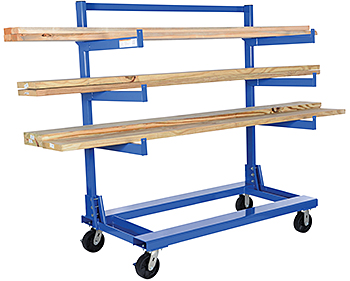 Comments